Getting product reviews on Google is the most important thing that any eCommerce seller can do, because displaying product reviews leads to growth, revenue and more sales.
Most eCommerce sellers rely on manufacturer descriptions of the products they sell to populate their product description pages. There's nothing wrong with this, it is of course the most effective way to ensure that all the specifications, photos and pricing is available to customers in your eCommerce platform.
But where these eCommerce websites are missing an opportunity to increase conversion on their product pages is by not adding product reviews to those pages.
Review content is SEO gold for retailers, because it's ever-changing, highly relevant and useful to end users. These are Google's most important criteria when it comes to ranking web pages, but SEO isn't the main benefit of product reviews on Google.
No, the reason why the content of product reviews is important is that they answer questions that potential shoppers may have about your products. While the presence of dry facts and figures from your generic manufacturer description is quite useful, what is more useful is someone telling you that the product works for them.
If you have a specific question about product application, and someone addresses this in a review comment, then you are likely to purchase that product (assuming your pricing, delivery and service are comparable to your competitors).
Why get Product Reviews on Google?
There are 4 main reasons why you'd want to collect reviews and get, specifically, product reviews on Google:-
Information Gathering – Reviews contain content in addition to the manufacturer's description which often answers real-life questions of product suitability Social Proof – If other people use and like this product, and tell me so, then so will I More Clicks – Product reviews give you stars in Google search results. which attract more clicks to you site Better Conversion – The information in product reviews give potential consumers one more reason to purchase from you and one less reason to look elsewhere for the answer to their question
The power of product reviews is that no matter what you say on your website and in your marketing materials about your product, people will still trust the opinion of their peers more than you.
You should always remember this point, and if you take it on board, you will have the advantage over your competitors who are just using the standard manufacturer description.
How Product Reviews on Google influence the customer journey
Most decent eCommerce retailers understand the power of Google Shopping in drawing new customers to their site. Google Shopping ads are the ones you see when you search for a product, and generally appear in the form of a product image, description, star rating for the seller or product (if they are collecting reviews) and pricing. When a customer clicks on the ad, they're taken directly to the retailer's product page for that item.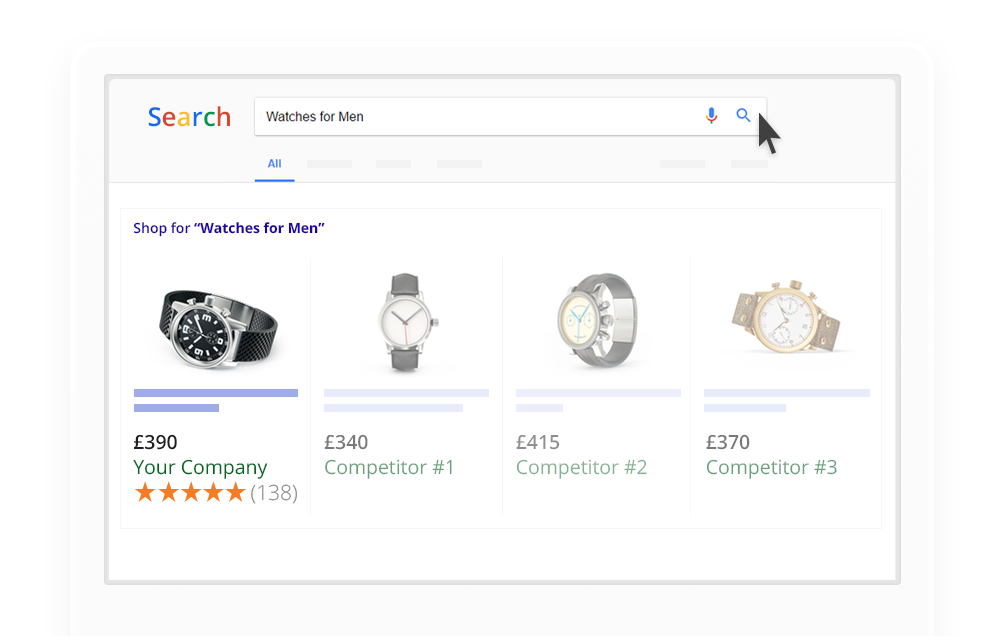 The image above highlights an example of how collecting reviews for your business can help you. As long as your chosen third party review platform is licensed by Google (like Reviews.io) then you'll be eligible for these stars in Google Shopping/Adwords once you reach 100 verified reviews in the preceding 12 month period.
Stars on Google Ads mean more clicks. In fact Google reports a 17% increase in CTR for ads with stars over ads which don't have stars. This leads to better quality scores and a reduction in your CPC.
Not only that, but once the customer actually lands on your page and sees your product reviews, they'll be more likely to convert as outlined at the beginning of this post.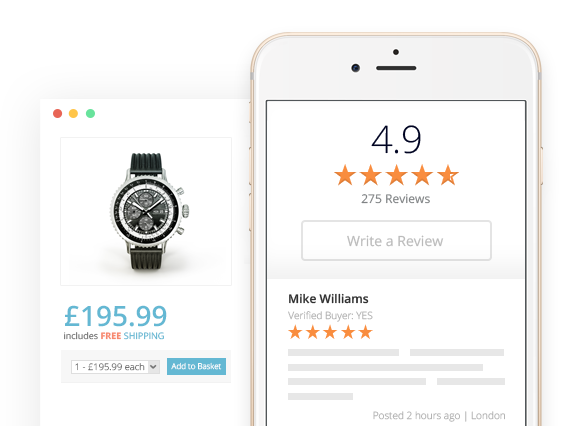 Product reviews on Google also appear in organic search results, not just Google Adwords or Google Shopping. You've likely seen Amazon appear on page one of Google for any product-related query, and the stars underneath those results are for the product itself, not Amazon.
I've written a whole blog post on the subject of how product reviews on Google influence the customer journey, so have a read of that.
Further reading
The Benefits of Collecting Product Reviews
How To Collect Product Reviews On Your Shopify Store
10 Ways To Fail At Google Shopping
To sign up for Reviews.io, just click the button at the top of your browser.