Google Business Reviews are the most important asset your company can own. Here's how to collect, manage and publish your business reviews to Google.
Your business should collect reviews because they show your future customers that you are trustworthy, quite often before they even reach your website. Collecting reviews should only be part of your strategy though, because unless you publish your business reviews in Google, nobody is going to see them. You therefore need a streamlined solution to collecting business reviews and getting them shown across the Google and the web (including your own website, of course).
We're also created a 5-part video series explaining Google Reviews in depth, which you can watch over on our YouTube channel.
What types of Google Business Reviews are there?
Reviews can appear in a number of places on the web, including your own website and local sites such as Facebook, Tripadvisor, Amazon, Twitter, Yelp, Check-a-trade and many more. But the glue that binds all these sources of reviews together is Google. Once reviews are published across the web, Google can aggregate them by reading their content from those sites, and it presents reviews in the form of organic or paid stars in Google search results.
These Google Business Reviews are then presented to users who enter relevant search queries. For example, if you were to type a company name into Google, you will likely be presented with a list of results in the SERPS including, among others, the company's official website, it's Facebook page, perhaps any listings it has on Amazon, and (if it's in the travel/tourism category) a listing on Tripadvisor.
You might notice in these third-party search results the presence of stars underneath the main heading. These stars are created by Google using Review data collected from those sites. It's a simple way to present the overall star rating from a range of sources, and gives the user an idea of a company's trustworthiness before they even visit the company's website.
Rich Snippet listings
In addition to the standard SERPS listing, you may also find a large box on the right hand side of the screen which appears generally when you search for a company by name. Inside this box is various data that Google collects by reading through the company home page and third party sources. It includes photos, opening hours and business location (generally taken from the company's Google My Business profile), and also contains reviews and star ratings. These will generally only appear for companies with a Google My Business account, set as a Local Business.
A second Rich Snippet powered listing is a text result with a star rating on it. These may appear if one of the pages you have implemented Review Rich Snippets ranks high enough to be on the first page. Review Rich Snippets are not possible on a company's home page, nor can you add them to every page. They generally should be used for pages related to the company itself, and not on any specific product page. Reviews Snippets are essentially Company Reviews, and they don't apply to Product Reviews.
Want to be super-informed about Rich Snippets by watching a series of 4 videos? You're in luck! Catch the full playlist over on our Youtube channel.
Google Local Listing
Any business with a Google My Business account (and all businesses should have one) set to Local Business will qualify for Google Local search listings. Any customer who searches with the intent to find a local businesses (e.g. "restaurants near me") will be presented a map of their local area. On this map will be their location an a list of local businesses appearing as pins in the map. There'll also be a swipeable list of short business descriptions along with a star rating and reviews.
To read more about how local reviews can help your business, click here.
Google Adwords Listing
This is the big one. Adwords results appear at the very top of the page for most search queries. Stars for Adwords are called Google Seller Ratings, and these are sourced exclusively by Google from its official licensed third party Review Partners (of which Reviews.io is one).
Reviews collected by official Google Partners on behalf of companies are verified and sent to Google in the form of a Review Feed (quite similar in content to a Google Shopping feed). These verified reviews are then used by Google to inform its Adwords Seller Rating shown under text ads.
Google Shopping Listing
If you're advertising on Google Shopping then it's probably even more important that you have stars underneath your ads. Google source Shopping Seller Ratings from the same licensed third party review providers such as Reviews.io as well as their Adwords Seller Ratings.
How to collect Google Business Reviews
It's important to be aware that there's a wide range of sources for reviews across the web. It's also important to appreciate how these different sources of reviews are displayed in Google. As Google is by far and aware the most popular search engine, it's critical to manage your reputation across all these local review sites. Ultimately, it is Google who is going to display the review scores, and Google which presents your customers with their first impression of your business.
Let's consider a business who collects reviews by invitation using a Google Review partner. They'll qualify for stars in paid Adwords and Google Shopping results (called Google Seller Ratings), because all those review sources will be sent to Google as part of the review collection process.
Only reviews collected by invitation, and verified during the review collection process, will qualify for Seller Ratings and count towards Google's requirement for 150 verified reviews within a rolling 12-month period.
Reviews written by customers on a public-facing reviews page do not count towards Google Seller Ratings because they are not collected by invitation and cannot be verified.
These are the rules that govern our license with Google and to which we adhere.
Other review sources
What if that company is not actively collecting on other sites though, like Facebook? Generally, if reviews are written unprompted by customers on local sites, they tend to be more negative than those which have been actively sourced. It's human nature to tell a range of people of a bad experience with a company, while going out of your way to write a positive review is not as common.
It's not inconceivable then that while you may have a good review score in your Adwords listing, you may have a poor score reflected on your Facebook page. Because Facebook is the most popular social network, it generally appears on page 1 of Google for company searches when that company has a Facebook page.
By glancing at the SERPS, your customer may see a glowing score under your Adwords ad, but a 2 or 3 star rating on Facebook, just below it. This might be enough to sow seeds of doubt in their mind as to whether they want to click through to your site. Already you are harming your click-through-rates by not collecting reviews on Facebook.
This is just one example. Today's consumers are pretty savvy, they'll look online for reviews across a wide range of sources, so it's quite likely they'll take your Facebook page into account reviews once they get closer to making a purchase.
To maximise your opportunity to make a sale, you need to streamline your review collection not just in one place, but in many places across the web. Reviews.io allows you to automatically send review requests to your customers and ask them to review you on a range of third party platforms, including Facebook, Amazon, Yelp and Check-a-trade (among others). It's called the Local Reviews module - you can read a bit more about it here.
Benefits of Google Business Reviews
You can probably appreciate that given the choice between a search result with stars and a search result without stars, your future customer is likely to click on the one with stars. Also, for two results with stars, they're more likely to click on the one with the higher rating, assuming all other things are equal (price, shipping etc).
You can use these two bits of information to your advantage. Getting stars in Google is precisely the reason why you should be collecting Google Business Reviews. They boost your click through rates so you can get more traffic, and your conversion rates will improve if you also implement on-page product reviews.
Adding reviews to your product pages, and more importantly, the comments inside them, really does lead to an increase in conversion rates once they land on your page. I've written a whole post about why this happens here, so take a read of that as well. If you're interested in product reviews from a Google Shopping perspective, then this post is for you.
In short though, review comments are often the source of answers to questions that potential customers have about a product. If customers have a question and can find the answer immediately, they're more likely to purchase from you rather than leaving your site in search of the answer (incidentally, in addition to our product review widget we also have the Expert Answers widget which allows customers to ask questions about your product right from your product page).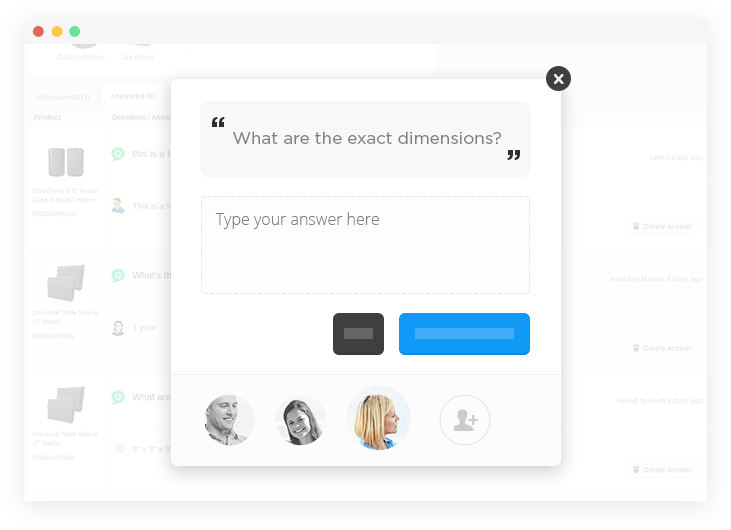 Google Business Reviews Summary
In summary, there's a short video explainer at the bottom of this page explaining how Reviews.io will help get you Google Business Reviews for much more visibility. Most of your happy customers will write you a review, and with our powerful Local Reviews solution you can now direct them to write reviews not just on Google, but across the web.
Still got questions about Google Business Reviews? Head over to our website or jump on live chat with one of our advisors.