You already know how important it is to collect reviews for your business, otherwise you wouldn't be reading a blog about reviews. What you may not know though is the importance of collecting reviews across a range of different websites.
Your customers will find your business online in a wide variety of places, from Google through to social networks like Facebook, to industry-specific websites and local business listing sites like Yelp or Google Local.
It can be overwhelming keeping track of all your reviews. You might also not know where to focus your review collecting efforts - after all, each customer can only write one review per purchase. You can't publish the same review to multiple sources without being penalised by Google for duplicate content, which in turn really harms your SEO and rankings.
So, before deciding on which site to focus your efforts on, you should first ask yourself what you're trying to achieve from reviews. Depending on the kind of business you have and whether you service just a small local area, your local region, the whole county or even the whole world, will dictate where best to collect reviews.
Review Sites
We'll first talk about the sites on which reviews can be collected, and then we'll look at a few business cases later on in the post that ties up where each business should collect reviews.
Google
Google is the first port of call for the vast majority of all internet searches in the world, and so needs to be your main focus. For the purposes of this post, when we talk about collecting reviews in Google we're specifically talking about getting stars under paid results (PPC text ads or PL Google Shopping ads) and organic results (stars under any non-paid listing).
How to get stars in Google is the topic of another blog post, so that is worth checking out to give you an overview of how collecting reviews will get you stars.
In brief though, if your business actively collects reviews with a licensed third-party review provider such as Reviews.io, they will be uploaded to Google regularly and eventually will give you Google Seller Ratings, meaning your stars will appear in those locations listed above in Google results.
It's imperative to collect reviews on Google if you are doing any form of paid advertising with them. This is because stars in PPC results will mean more clicks on your ads.
Google Local
Google local is a specific type of search result which is displayed when you type in a query which could be considered "local" in focus. For example, "plumbers near me", or "I need a florist". On a larger scale, if you type in the name of a company which has multiple branches, it's quite likely you'll be presented with the Google Local result containing a map of the surrounding area, with the company pinpointed so you can find it.
Google is all about making the user experience useful and simple, so the additional information provided in these results is taken from data provided by the company websites in the form of Structured Data. This dat includes details like address, opening hours, contact phone numbers and yes, reviews. So as well as a list of companies on a map, you'll also have the option of seeing at-a-glance their local review score.
Heres the Google Local result for "plumbers near me". Which one are you most likely to call?
Facebook
Facebook can be a a very visually appealing and engaging platform, and it allows companies to add descriptive images and videos to their pages. Facebook also allows users to leave reviews for business. Google reads this data and presents it underneath the Facebook page result for a business in it's search results page. This is why you often see stars underneath the organic Facebook page results in Google.
Try Googling a company and see where their Facebook page ranks. It's usually pretty high. You'll also see those stars underneath it.
Here's an example - if you search "VW Heritage" in Google, their Facebook search result is number 3. You can already see at a glance their review score on Facebook.
These reviews are automatically brought into Google by Google. You don't have any control over that, so the best thing for you to do is to actively collect reviews on Facebook.
Tripadvisor
Tripadvisor is the big one for any hospitality business. Think hotels, bars, clubs, restaurants and cafes. In fact, if you type any of those terms into Google, Tripadvisor will give you a top ten list in your local area.
Type "cafe" into google and you'll get the Tripadvisor top ten list pretty near the top of the results.
Click on that and you'll get the list.
(Incidentally, I can vouch for the excellence of the St Martin's Tea and Coffee Merchant cappuccinos - actual lumps of chocolate on top rather than the powdered stuff.).
Trustpilot
Why would we mention Trustpilot in this list, surely they're a direct competitor? True, of course, but that doesn't mean that for consumers they're not still an option. In fact, they've probably already called your business to try and sign you up to their expensive plans for fear of missing out on collecting reviews on the platform.
Fear not, you don't need to sign up for a Trustpilot account, and you're not going to lose out, because you can use Reviews.io to send review traffic to your Trustpilot profile, thereby still maintaining a great online rating without needing to be locked in to their 12 month contracts or expensive price plans.
It works for Mobiles.co.uk, and it can work for you, whatever your business size.
"Local review collection has been working extremely well and our Trustpilot score has increased 28% without impacting our Reviews.io score. The new feature is a game changer within the industry and something I would personally recommend to other companies." - Neemisha, Brand Executive at Carphone Warehouse.
Yelp
Yelp is similar to Tripadvisor but is more extensive in its categories, adding Dentists, Shopping, Spas, Sports and Cars to Tripadvisor's main hospitality focus. It's where people find local businesses in a wide variety of categories.
Amazon
Amazon allows users to write reviews on products sold through its marketplace. Marketplace sellers (business owners like you who use Amazon as their main selling platform) are also able to collect reviews. Reviews are one factor in Amazon's algorithm affecting who wins the "Buy Box". If you sell on Amazon, you'll know what the Buy Box is, and if not, you don't need to worry about it.
Your own website
It goes without saying that collecting and publishing reviews on your site should be your main focus, as this will enable you to get Google Seller Ratings and Stars in your paid and organic results. By using a site widget such as the ones provided by Reviews.io, you'll also reap the benefits of more conversions and a positive impact on SEO owing to the presence of ever-changing user-generated content.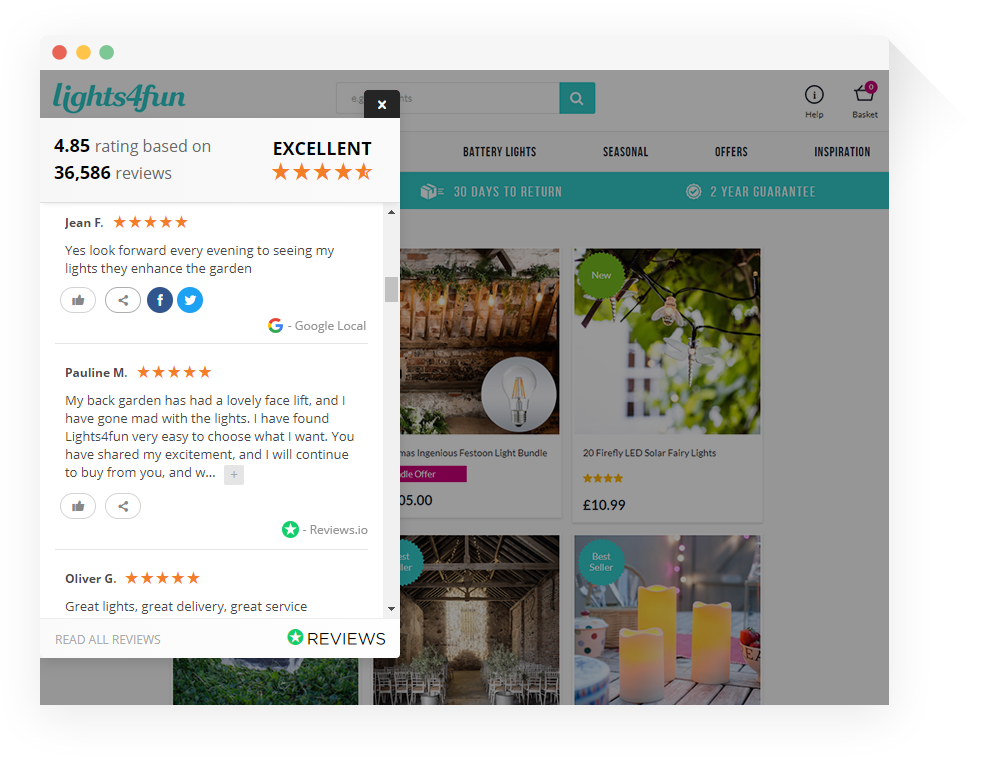 Types of Business
So now we've looked at the places where reviews can be collected and how they are displayed in Google, let's look at some use-cases for various business types and sort out where your review collection focus should be.
Sole Trader
Area: Local
Industry: Service
Examples: Tree surgeon, plumber, electrician.
Collect Reviews on: Google, Google Local, Facebook, Yelp, Reviews.io.
Notes: Sole trader/tradesperson results are most likely to appear in Google Local search queries owing to their nature and area coverage.
Small Business
Area: Local
Industry: Service/Retail
Examples: Cafe, Bar, Nightclub, Cake Shop, Florist, Corner Shop, - Specialist Retail Outlet, Catteries.
Collect Reviews on: Google, Google Local, Facebook, Yelp, Tripadvisor (hospitality only), Reviews.io.
Notes: Local searches in Google give maps and locations of local businesses. A number of service and retail-based businesses are usually present, along with a review score.
E-Commerce Business
Area: Countrywide
Industry: Retail
Examples: Clothing, Auto Parts, Electrical, Entertainment.
Collect Reviews on: Google, Facebook, Reviews.io.
Notes: Most e-commerce stores will have multi-product catalogues so the collection of Product Reviews is at least as important as collecting Company Reviews for eCommerce stores.
Amazon retailer
Area: Countrywide
Industry: Retail
Examples: Clothing, Auto Parts, Electrical, Entertainment.
Collect Reviews on: Google, Amazon, Reviews.io.
Notes: By automating the feedback request process, you'll increase the volume of seller feedback collected in a short space of time. Positive, recent reviews have an impact on your chances of winning the "Buy Box".
Multi-branch retailer
Area: Countrywide
Industry: Retail
Examples: .
Collect Reviews on: Google, Google Local, Facebook, Reviews.io.
Notes: While large multi-branch retailers will have an overall Company Review score, Google Local will allow individual branches to gain their own rating. Reviews.io supports branch-level review collection for larger businesses.
Keeping track
If you've got this far in the post you might be feeling a bit overwhelmed. How can one person possibly manage reviews across all these different sources? It's common knowledge that reviews are super important to business, as is a consistent reputation across multiple sources. Your customers will find you everywhere online.
Reviews.io has a solution for you though, so don't worry. We've implemented a very cool feature called Local Review Collection, which lets you manage all these review sources in one place, your Reviews.io dashboard.
It works like this. You send out review invitations to all your customers. In that email or SMS is a link which directs them to the appropriate platform where they can leave a review. You can easily set up segmentation of your review requests by apportioning a percentage of reviews to each platform.
In this way you could, for example, assign 80% of your review requests to Reviews.io, 10% to Trustpilot, 5% to Facebook and 5% to Amazon.
It works, quite simply, by adjusting a handy slider in your Reviews.io dashboard like so:-

Cool eh?
Summary
The benefits of collecting reviews are well known. Consumers are far more likely to come across your business in a wide variety of ways. It's important that your business presents itself in the best possible way across all these platforms to maximise the probability of click-throughs to your site, or a customer picking up the phone.
Implementing a review collection strategy is the best way to make sure you're prepared for traffic from many different sources.
Want to more advice about where you should be collecting reviews? Head over to our website or jump on live chat with one of our advisors.