Have you ever stared in jealousy at the stars underneath your competitor's adverts in the Google Search Results? Do those flashy golden symbols confuse and bemuse you? We're here to help! Today we're showing you how to get stars in Google Search Results in a variety of ways, so you can stand out amongst your competitors and succeed online.
---
Page Contents
---
How to get Google Stars?
Although all the stars you see in Google may look the same, many come from slightly different sources and have different purposes too.
There are a few ways to get stars to appear in Google Search Results, both of the paid and unpaid variety. Today we're going to talk you through the different options so you can find a perfect fit and maximise your visibility in the SERPs.
Google Seller Ratings
Google Seller ratings are stars displayed under paid advertising (Adwords & Google Shopping) in Google Search Results.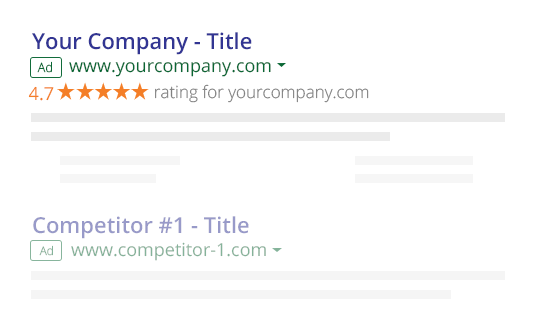 You'll no doubt be familiar with Seller Ratings as they feature at the top of results in many Google results pages. In Google Shopping ads, you'll see both company and product ratings together, which are aimed at selling individual products - if you're an eCommerce company then you should really be selling on Google Shopping.
How do I get Google Seller Ratings?
Now you know what they are, it's time to learn how to get them. Unfortunately, Seller Ratings don't come for free. The only way for your business to get stars in Google with Seller Ratings is by collecting genuine reviews with a Google Liscened Partner. This is to ensure reviews are verified and carry some trust.
There are two steps:
Implement a review collection strategy.
Collect over 100 verified reviews every 12 months with a rating of 3.5 stars or above (these are Google's Seller Rating requirements.)
Get the reviews sent to Google in the form of the Merchant Review Feed. The Merchant feed is a simple spreadsheet/CSV uploaded to Google on a regular basis - if you've ever seen a Google Shopping feed then it's a similar set of data containing everything from the customer's name and email address to the review rating and the review comments.
Businesses are not permitted to simply collect reviews themselves and upload them to Google, they permit only Licensed Review Platforms such as Reviews.io to submit Merchant Review Feeds on behalf of their customers. If Google Seller Ratings aren't showing up on your ads, chances are you've not reached the requirements or aren't collecting reviews with a Licensed Partner.
Review Rich Snippets
Unlike Google Seller Ratings, Review Rich Snippets are displayed exclusively in organic search results (your bog-standard Google search results page) and therefore, provide a free way of showing stars in Google. They generally appear in a couple of places: below organic search listings and also across to the right-hand side of a search page (those large boxes you often see when you search for a company by name).
Google relies on various structured data within web pages to make extraction and understanding easy. Review Rich Snippets (check out the comprehensive guide here) are one such form of structured data. When featuring things such as recipes, reviews or authors on your site, inputting Rich Snippets mean Google is able to read the structured data and extract important information. For Review Rich Snippets, this includes the review rating, user name and additional comments.
How to install Review Rich Snippets
When it comes to installing Rich Snippets, there are several options available to you. If you're using a Review Platform, they'll usually have widgets available for you to use which already contain Review Rich Snippet HTML. If this is the case, simply follow the instructions provided to you by your Review Platform.
If you're not using a Review Platform, you can either:
Manually insert Rich Snippets into your website's HTML, or
Install one of the many Rich Snippet widgets available on the web.
Your site is generally crawled by Google every 7-14 days, so you should see begin to see your stars in Google Search Results in no time at all.
The Importance Of Business Reviews
If you have a business, whether in E-commerce, for your hospitality business or a service you offer, you'll have a Business Profile on Google. They feature at the side of the SERPs, often in local searches or in cases where your business has been searched for directly.
How to get stars in Google with My Business Reviews
Any business with a Business Profile can collect reviews. Google automatically creates and updates this profiles based on information it pulls from your site and elsewhere, however, they're not always perfect. In order to have control over your Business Profile and fill out everything accurately, including opening times, contact information and more, you'll need to set up a My Business Account. This is really easy to do and once you've filled everything out, customer's will easily be able to find your business listing online and be more likely to leave you reviews.
Once you've verified your business, you'll also be able to respond to reviews.
Third-Party Reviews
Google's technology is incredible and it's able to pull data from all over the place to compile comprehensive and dynamic Search Results. You may have noticed stars appearing underneath your Facebook page organic search results or in an Amazon product listing in the organic search results - these stars are collected by Google on those platforms and aggregated in the SERPs.
Where to get third-party reviews
There are numerous places you can get third-party reviews, all of which have Rich Snippets built in and will appear in the SERPs. To maximise your visibility in the Google Search Results, make sure you're collecting on sites such as:
Why show stars in Google Search Results?
Now you know how to get stars, you may be wondering why you need to collect them in the first place. Well, people like stars. Whether they think about it or not, if a star appears in a web result and the person can see at-a-glance that the destination company has a good review score, he or she is more likely to click on the search result. Google state that stars give you a 17% boost in click-through-rate which is a pretty big deal.
Stars also have the added benefit of also increasing the chances of a conversion (purchase) on the landing page as you will have already garnered some trust from them. And from there on out, reviews help them to make informed purchase decisions whilst showcasing your transparency and therefore, increasing trust.
Consistency is key
It's critical to maintain a consistent review score throughout all these web platforms. If someone searches for your company online and is presented with a number of search results containing Rich Snippets, then see your Facebook listing with poor reviews just below, they'll question your reputation.
When it comes to reviews and your online reputation, consistency is key. There are so many places to collect customer feedback and it's important you're proactive across the spectrum.
Getting Stars in Google Summary
Whatever your business size or purpose, it has the ability to get stars in Google. They key is to understand your options then implement a review collection strategy that covers multiple platforms to enable visibility and consistency across the web.
Still not sure how to get stars in Google Search Results? Head over to our website or jump on live chat with one of our advisors - they'll be able to help you with anything you want to know.