Have you ever stared in jealousy at the stars underneath your competitor's adverts in the Google Search Results and wondered why you haven't got the same? Wonder no longer because you're about to find out.
We're here to help guide you through Google Seller Ratings and Rich Snippets and explain how to get them, what benefits they have for your business and how you'll get the competitive edge by displaying them.
Lets start at the beginning by giving you a couple of definitions. You've probably seen them on Google already. In short, Google Seller Ratings are a specific type of extension which shows reviews collected by a business. The extension takes the form of, you guessed it, stars. Rich snippets are created by Google by extracting certain data from various sources around the web.
Google Seller Ratings
Seller ratings are displayed under paid advertising (Adwords, Google Shopping), and Rich Snippets are displayed exclusively in organic search results (your bog-standard Google search results page). Both types can either give an indication of an overall rating for a company, or for an overall rating of a product.
Here's an example of what a seller rating looks like in a PPC text advert. You'll no doubt be familiar with this because most of the results at the top of any Google results page will have a number of these PPC adverts available.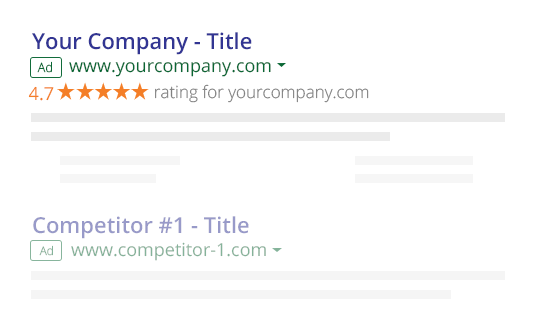 You'll also see both company and product ratings together in Google Shopping ads, which are a particular form of paid advertising specifically aimed at selling individual products online. If you're an eCommerce company then you should really consider selling on Google Shopping (and here's some tips to get you started).
Rich Snippets
Google uses structured data within web pages that organises it in such a way as to make it easy to extract relevant information. Review Rich Snippets (check out the comprehensive guide here) are one such form of structured data. When using a review widget to show reviews on your site, Google is able to read the structured data in such a way as to extract the important review information. This includes the review rating, user name and their comment. Google uses this information to product Rich Snippets.
Review rich snippets generally appear in a couple of places, below organic search listings and also across to the right-hand side of a search page (those large boxes you generally see when you search for a company by name). Google tends to pull in review data from a variety of sources to create review rich snippets.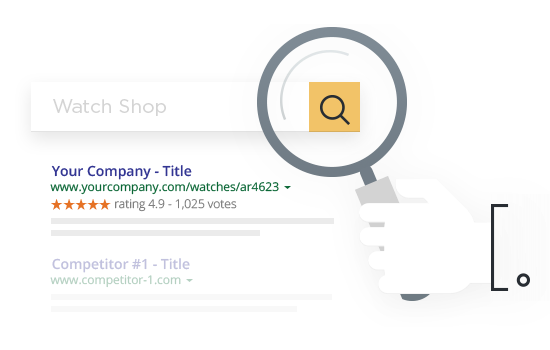 How do I get Seller Ratings and Rich Snippets?
The only way for your business to get content into these special extensions is by collecting genuine reviews and publishing them to Google. That's it.
There are two steps. The first is to implement a review collection strategy. The second is to get the reviews sent to Google in the form of the Merchant Review Feed. The Merchant feed is a simple spreadsheet/csv uploaded to Google on a regular basis. If you've ever seen a Google Shopping feed then it's a similar set of data, from the customer's name and email address, to the review rating and the review comments.
Google permit only licensed review platforms such as Reviews.io to submit Merchant Review Feeds on behalf of their customers. Businesses are not permitted to simply collect reviews themselves and upload them to Google. The entire reviews ecosystem was designed to be based on trust, and using impartial third-party platforms such as Reviews.io provides that trust.
Once your verified reviews have been collected and once your feed has been sent to Google, you'll start to see Seller Ratings and Rich Snippets appear throughout the web. At present, Google's criteria for giving Seller Ratings is that businesses must collect a minimum of 100 verified reviews with a rating of 3.5 stars or above in the previous 12 months. The timeframe remains rolling, so collecting regular reviews on an ongoing basis is important to ensure you do not lose your Google Seller Rating status.
Why show stars in Google?
People like stars. Whether they think about it or not, if a star appears in a web result and the person can see at-a-glance that the destination company has a good review score, he or she is more likely to click on the search result. Google state that stars give you a 17% boost in click-through-rate. That's a huge increase.
Stars also have the added benefit, after increasing the chances of your search result being clicked, of also increasing the chances of a conversion (purchase) on the landing page. People like to read reviews about products to get more information not supplied in the standard description, so the review content is also important for answering any questions they may have. Implementing a product review widget on your site allows users to browse through this information easily.
The more information that's available to the user in their buying journey, the more likely they are to make a purchase.
All people really care about when shopping online are three simple points:-
Is this product suitable?
Is it the right price?
Do I trust the person I'm buying it from?
Reviews are there at every step of the process, in one form or another, and contribute at every step of the buying journey.
Google stars are not just there to make the search results look pretty, they are there to inform the customer throughout their journey. As you know, Google makes everything about the user, from search relevance to ease-of-use, and Seller Ratings and Rich Snippets are just two ways they improve the user experience.
Seller Ratings and Rich Snippets give greater visibility to your brand, and you'll stand out from your competitors who don't have them. If your competitors do have them, you simply need to make sure your service and prices are better (which you're probably already doing) by focusing on service levels and actively collecting reviews which reflect them. Collecting reviews is a great way to give your customers a voice, because your future customer craves social proof that you are worthy of doing business with.
Reviews across the web
Google also takes review data from a number of other sources. You may have noticed stars appearing underneath your Facebook page organic search results, or in an Amazon product listing in the organic search results. These stars are collected by Google on those platforms.
It's critical to maintain a consistent review score throughout all these web platforms. If someone searches for your company online and is presented with a number of search results containing Rich Snippets, they'll question your reputation if your Facebook reviews are poor compared to your reviews elsewhere.
This is the reason Reviews.io introduced local review collection, because it allows you to manage and direct review invitations to third party platforms, without compromising your review score on Reviews.io. You can collect reviews on Facebook, Tripadvisor, Amazon and even Trustpilot, meaning you can maintain a great review score online without compromising on cost.
Summary
Collecting reviews gives you stars throughout Google, which even appear on platforms that you do not directly control. Implementing a review collection strategy is critical to collecting and maintaining Google Seller Ratings and Rich Snippets. Informed customers make quicker buying decisions, and the more information you can make available to them regarding the quality of your products and service, the more likely they are to purchase and return.
To talk to us about setting up your review collection strategy, request a free demo of Reviews.io today by clicking the button at the top of this page.