Google Shopping is one of the most powerful and profitable ways to advertise your products and drive traffic to your eCommerce website. But with that power, of course, comes risk. Like any paid advertising campaigns, if you do it wrong, you'll waste valuable spend and get little return. But don't worry, we're here to give you our top 10 tips for getting the best from your Google Shopping campaigns, allowing you to get more sales, increase your bottom line and reduce wasted advertising spend.
For those of you who aren't currently advertising on Google Shopping, it's one of the best ways to advertise products on an eCommerce website. Typically, you can expect a cost of sale (the ratio of amount you spend to the amount you get back) to be between 5-20%, depending on your industry. You'll need to manage it properly and there are a number of technical considerations to take into account.
Let's start at the top.
1: No company information on your site
If you're not displaying your terms and conditions, using secure payments, and linking to your privacy policy, you may as well turn your website off today. Likewise, you'd better make sure that your company information, contact details and your delivery/returns policy are visible to any potential customer. Nobody will convert on your site unless they know they can reach you in case of a problem.
2: Feed not optimised
Your Shopping Feed is the source of all your products, and is the lifeblood of your campaigns. It is sent to Google in the form of a spreadsheet (a .csv file), and contains all the information Google needs to decide which ads to show for which search terms, and where to direct the user after they click.
Your feed needs to contain critical information such as the item id, the title, the description, an image, the price and the link to your product page on your site. For a full list of specifications, check out the Google Shopping Feed Specification page.
The data in your feed needs to be correct or you'll find you'll start seeing regular errors in your Merchant Centre. It's critical that these be rectified as soon as possible or you may face a suspension warning. Suspensions are serious business - all your ads will stop running and this downtime will cost your business dearly.
3: Not regularly checking your Merchant Centre
Your merchant centre is the control centre for your Google Shopping Feed. This is where you upload the feed (unless you have an automated system pulling the data from a URL or file upload) and where any feed errors are reported.
Source: Google
Things to look out for include incorrect URLs, incorrect images, incorrect pricing and landing pages that don't load.
The only way to fix these is by adjusting the feed itself. Most eCommerce platforms generate the feed for you, so you should consult the help section of your platform to find out how to change the data.
One source of errors can be attributed to the frequency of sending the feed to Google. If your feed runs just once every 24 hours but your prices change every few hours, or items go out of stock, then Google won't be made aware until the next time your feed runs. This leads to inconsistencies between your website's 'live' data and the Google Feed. Any errors will cause that item to be removed from the advertising network until the data matches.
If you have a fast-paced website then upping the frequency of sending the feed to Google will limit these problems. Don't go overboard though - a maximum of 3 times a day is usually sufficient.
4: Not using accurate, keyword rich product descriptions
Google Shopping works in a different way to its AdWords search campaigns. You don't get to choose the keywords you want to target. Instead, Google sources that information from your product title and description fields.
It's therefore super important to optimise your title fields to contain relevant keywords, and Google gives preferential treatment to those words at the beginning of the title. The keywords in the description are also important so you must ensure that these contain the search terms you expect your audience to be using.
5: Ignoring the Negative Keywords report
This is a massive, massive point and probably the most important on in terms of reducing spammy, irrelevant traffic to your pages through your ads. As you may know, in Search Ads, Google has a habit of suggesting keywords to you. Have you noticed how they are almost always "broad match" types? The reason for that isn't to help you get more traffic to your site, but to help Google make more money by charging you for irrelevant click traffic. Broad match terms can trigger your ads for a range of terms which are tenuously linked to your products at best, and utterly irrelevant at worst.
In Google Shopping, you don't get to choose directly which keywords trigger your ads, unlike AdWords where you'll enter a range of exact or phrase match keywords. instead, you have to carve keywords out of the whole and put in the ones you don't want to trigger your ads.
For example, you're selling a pair of blue running shoes. Your ad will likely show for the term "blue running shoes" (assuming your bid and other factors are high enough). If you are bidding high though, then Google will also show your ad for the term "red running shoes", because it's matching the phrase "running shoes".
(Spot the pink shoes).
Your ad will show for "red running shoes", a user will click on it, get to the landing page, see that the shoes are blue and not available in red, and leave. You've just wasted a couple of pounds on that traffic.
The simple solution is to add the negative phrase match "red" to your negative keyword list. That way your ad will never show for any search terms containing "red".
Another way of reducing unnecessary traffic is to remove keywords such as "video", "free", "pre-owned", "second-hand" and "instructions" from your campaigns. This will potentially weed out users who are either looking for pre-owned items (which you probably don't sell) , or instructional videos or pdf downloads for products, which means they're not likely at the buying phase yet.
Your mileage may vary of course and there's no one-size-fits-all strategy when it comes to keywords. Check in your own keywords report in your AdWords dashboard for any problem areas.
6: Not segmenting your campaigns
Without segmenting your campaigns, your negative keyword strategy will fail. You want to split your products into multiple campaigns, logically arranged by product type. For example, if you're a furniture retailer then it makes sense to create campaigns by room type. On a basic level, this means you could effectively separate sofas for garden, living room and conservatories. You'd add the negative keywords "conservatory" and "garden" into the living room campaign, and that should solve your issue.
Without segmenting, it's entirely likely you'd show all three sofa types for the search term "living room sofas", if your bid is high enough.
7: Bidding too low or too high
It's so important to keep an eye on your bids. And by that I mean, every day. If you're bidding too low, you're not going to get any impressions, and you'll never sell anything. Bid too high and you'll potentially receive a lot of irrelevant traffic which will never convert. Getting your feed in tip-top shape and being ruthless with your negative keywords report will help here though. Once fixed, your bids can be a bit higher to generate more traffic and you'll know you're getting the most relevant traffic you can.
8: Not displaying Seller Ratings
Google Seller Ratings are vital in Shopping campaigns. These are the little gold star ratings that are found next to adverts and organic search listings. They're vitally important, but you may not be aware of how to get them on your ads or what impact they have.
It's simple. The only way to get seller ratings is to collect reviews for your business. Once you have 100 reviews of 3.5 stars or above in a 12 month period, Google can start to show Seller Rating stars below your ads. Your company rating will also appear in the Compact Listing.
Users like to trust the companies they purchase from. They are 17% more likely to click on your advert when you show a seller rating. You'll also save a minimum of 10%, rising to over 20% of your AdWords spend, as soon as you display Seller Ratings. The increased click-through-rate has the knock-on effect of improving your Quality Score. A higher quality score means a lower cost per click.
Seller Ratings are therefore critical to reducing your costs, increasing your sales and improving the trust that potential customers place in you.
9: Not displaying product reviews on your landing page
Collecting company reviews is incredibly important in showing stars in your adverts and increasing click-through-rates, but collecting product reviews is critical in improving your on-page conversion. The reason is simple, a customer lands on your product page but wants to know what other users think about it. Everybody looks for product reviews when purchasing, and well over 80% of customers won't buy anything without checking for a product review first.
Showing the social proof of product reviews on your product page will give your customers one less reason to leave your site and look elsewhere for reviews, and potentially purchase from your nearest competitor.
10: Not answering customer questions
Let's face it, most eCommerce companies which aren't selling their own products are just going to churn out the same manufacturer information, with very little to differentiate one website from the next in terms of product information. You can add value to your customers' experience by answering product questions, right on your product page.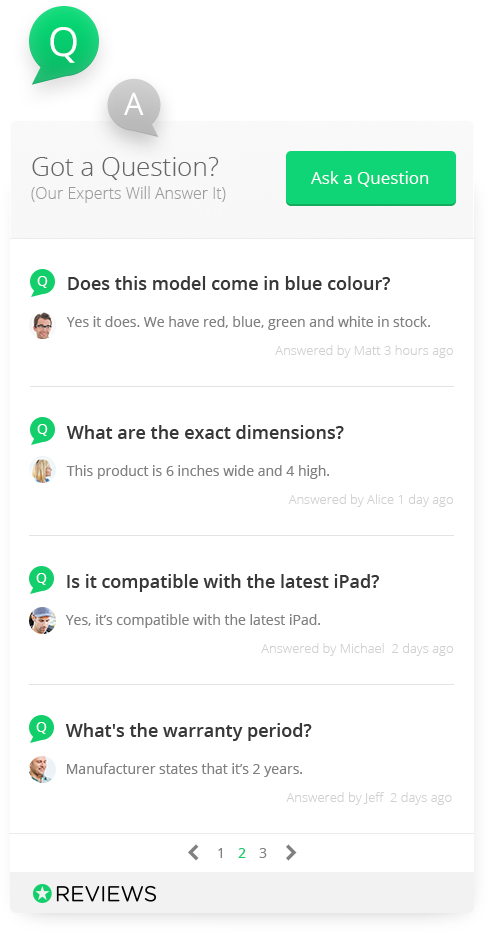 The benefits are twofold. You'll save your customer service and sales teams from answering the same questions over and over again, and you'll answer a customer question before they think they have it.
An example is that a customer has looked at three different websites for a product, each of which has the same manufacturer-supplied information. Your website though, has some questions answered about the product's size, fit, application or suitability, which are not supplied by the manufacturer.
If you can give answers to these questions on your product page, you give your customer one less reason to leave. Which is one more chance that they'll convert and make a purchase.
Wrap Up
I hope you've found this list useful. I've not covered everything, because this is a blog post, not an essay. Remember, the more effort you put in to Google Shopping, the more you'll be rewarded.
If you're looking for a review collection platform to help you get those Seller Ratings I mentioned in point 7, then sign up for a free demo of Reviews.io by clicking any of the buttons on this page.