Review collection can be simple, automatic and it will benefit your business. We can tell you that until we're blue in the face, but there'll always be a niggling doubt in your mind as to why you shouldn't implement a review collection strategy. This post aims to smash through all the reasons not to collect reviews and help give you enough reasons to implement a review collection strategy for your business.
For a really quick overview of why collecting reviews is good for business, have a look at our video:-
1: Reviews don't have any impact on business
To be honest, this one doesn't come up very often. The vast majority of business owners see the value in reviews. Some businesses know they probably should be collecting reviews because they're heard they can bring benefits, but haven't really done much research into it.
Review collection is really, really important for all businesses of any size. The main three reasons for collecting reviews are:
More visibility in Search
More customer trust
Reduced advertising costs
More conversions
Collecting reviews is the only way to get Google Seller Ratings, which are the little stars you'll see throughout Google search results. These stars give potential customers a quick overview of your reputation. They inform the user before even arriving at your site about the quality of your products or service. It's pretty clear to see how missing stars will make users less likely to click through, because even in those few seconds they'll form an opinion about you.
Google themselves state that search results with Seller Ratings give an uplift of 17% in click-through-rates to your site. A better click-through rate will increase your Adwords score for al your paid traffic (both text ads and Google Shopping ads). An increased Adwords score means a decrease in cost-per-clicks, so you'll start to get more traffic at less cost.
Once customers arrive at your product landing pages, they'll be able to read other user reviews on those products. Reviews and user-generated content are fantastic for giving more information than the standard manufacturer blurb that is seen on countless retailer's sites. Reviews can answer questions that web visitors have. The more questions answered, the fewer reasons a customer has to leave your site in search of the answers elsewhere.
This leads to more on-page conversions on your product pages, and more sales and revenue for your business.
2: We haven't got time to implement it
People often use time as a reason not to do something. Most of the time, people don't know how much time something will take before using time as an excuse not to do it.
Adding reviews to your site will probably take you 30 minutes maximum, including the time it takes to set up your account and add widgets to your site in the appropriate place. We've got Shopify, Magento, WooCommerce and many more eCommerce plugins that will do all the hard work for you.
If you need to employ an external developer to take care of this for you, speak to us first and we'll help you. It might save you some money.
3: Collecting reviews is hard work
It's not! You can collect reviews automatically with Reviews.io. Every customer who completes an order on your site gets an automated, beautiful email (fully customisable of course) pointing them to your review collector page.
The advantage of this method is that you know all reviews you receive will automatically be verified, and therefore eligible for the Google Review feed. All verified reviews count towards the total required to get your Google Seller Ratings, currently 100 in a 12 month period.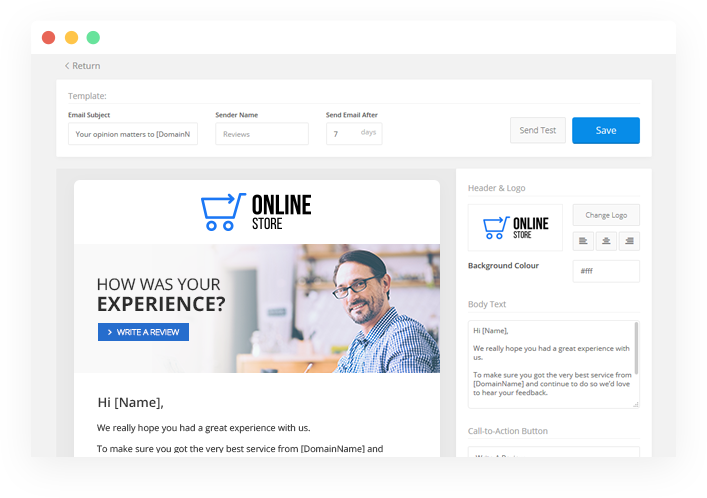 4: We probably won't get many reviews
You'd be surprised! People like writing reviews, and the only way to prompt them to do so is to ask them. If you don't ask, you don't get!
We make it easy for your customer. They don't need to log in and they can write reviews from their phone from anywhere (even adding a photo). The average conversion rates from our clients' review emails are very good.
5: What if we get a negative review?
This one always comes up. Don't panic! Lots of business worry about negative reviews. However, they shouldn't. Every business is going to get a bad review at one time or another. In fact, getting constant 5 star reviews isn't going to do your business any favours because that actually reduces trust in your business. It's how you handle negative reviews online that is most important.
Whenever I read reviews on a company I've not dealt with before, I'll do a couple of things. Firstly, I'll scan through to make sure I'm happy with the overall rating and check on a few key terms (delivery, returns, general service etc). Then I'll actively look for the negative reviews (of which there's normally a much smaller proportion if the business is doing their job properly).
Negative reviews are useful for me, as a consumer, because I want to know how a business deals with an issue as it arises. Reviews.io gives all businesses the opportunity to respond to negative reviews, and it's these responses which have the most value in consumers' eyes. Not only that, but your customers can also amend their review at any time, so once you've put the issue right you can contact them and ask them to change it.
6: I've missed out on lots of reviews and I feel sad
Don't be sad. You can contact all your past customers by uploading a simple .csv with customer names, order numbers and email addresses, and ask them all for a review retrospectively. This is a really effective way to get a lot of reviews in a short period of time right at the beginning of your review collection journey. Remember, the goal is to get Google Seller Ratings, which means getting to 150 reviews quickly.
7: Our business can't afford it
Have you looked at our plans yet? The question is not whether you can afford it, but whether you can afford not to collect reviews. You are guaranteed to make more sales when you collect and publish reviews. If you spend around £500 per month or more in Adwords then, given you'll save 10% rising to 20% of your Adwords spend almost overnight, then the solution pays for itself twice over.
8: I don't want to sign up and pay for 12 months in advance
Then don't! Most of our competitors will tie you in to a 12 months contract and ask you to pay up front. They'll be asking you for well over £1,500 just to get started, which we feel frankly, is nonsense. We don't do long contracts, because we want our customers to stay with us on the strength of our support and service, not because they're tied in.
You can upgrade, downgrade or leave anytime with 30 days notice. That's it.
Summary
Hopefully that's put some fears at bay. If you've got any more reasons not to collect reviews, just give us a call and tell us and we'll add them to this blog post.
If you'd like to talk to us about starting a review collection strategy just sign up for a demo using one of the buttons on this page.