Rich snippets can cause a lot of confusion and frustration, so we've put together a super simple guide to ease the stress, including some helpful hints and tips to keep you on track, and get those organic review stars on Google.
You may have heard of rich snippets, or this may be a completely new concept to you. Whatever level of understanding you hold, this blog will provide a breakdown of its definition, the benefits, installation, and general advice.
Clarification on common hiccups
What are Rich snippets?
Rich snippets is a term used to describe the structured data which can be added to your webpage's HTML. Rich snippets in your HTML allows a search engine, in this case Google, to "read" your webpage and understand the information you present.
Once Google has determined the content of your page, it will then be able to display this in the Search Engine Results Pages (SERP). This information is displayed underneath your company name in the form a blurb, and can also contain reviews, product photos, location, or pricing. This allows your company to then increase visibility within the SERPS, giving you the edge.
Benefits
Rich snippets allow consumers to educate themselves more quickly to your services, instantly see the reputation of your business, and easily assess whether or not your services would be right for them. By accessing this information immediately before clicking your site, when customers do enter your webpage they're more likely to stay on the site longer. Ultimately, rich snippets have been found to increase click-through rates by 20-30%.
The structured data we get most excited about here at Reviews.io are Company Review Rich Snippets and Product Rich Snippets. In a nutshell, it is specific structured data on pages where you display reviews for your company or products respectively, which allows Google to pull this information and display it in a search, and give you those fantastic organic stars!
Overall, Google is constantly scanning your website to determine what it is you do and offer to representatively display your services. Once Google pops this information in the search results, this increases your visibility. Thus, without rich snippets you handicap yourself against your competitors.
Implementation & installation
Now we know what rich snippets actually are and how they work, let's breakdown how to get company review rich snippets and product rich snippets on your site.
Normally, if you were collecting reviews independently, you'd have to make sure that those reviews appeared on the page you wanted to add company review or product rich snippets to, in order for it to display your stars organically on Google. However, that's fussy, so we made it headache-free.
With the Reviews.io rich snippets widget, you simply put this on your site's pages (it's already choc-full of reviews,) and add the company review or product rich snippets code for that particular page. All it takes is a bit of copying and pasting on your behalf.
It can typically take up to 2-8 weeks once rich snippets are installed for Google to start displaying your stars in Google natural results. Stay patient if you don't see anything within this time frame. Refer back to this guide and check through the tips. If after this time you're still having problems, feel free to get in touch.
*NOTE In order to use a widget, you must have at least 1 review. Don't fret if you're not collecting, you can get started easily, especially with our review booster.
Installation
Company review rich snippets, let's take a look:
1) First you should ensure you have no other 'LocalBusiness' rich snippet markup / json+ld on your site. Adding this code alongside existing markup may cause conflicts.
2) In the dashboard, hover over Company Setup then Review Publishing, and click publishing reviews
3) From the options, choose Rich Snippets
4) Now enter the URL of the page you wish to have rich snippets
5) Make sure you get a confirmation of acknowledgment and check your page is whitelisted
6) Now head back to Company Setup then Review Publishing, and click publishing reviews
7) Choose a widget which has the "rich snippets" banner on the side.
*NOTE If you pick any old widget you fancy, this won't work. It must have the blue rich snippets banner.
8) Copy the code from the box displayed and paste into your chosen webpage (the page you selected originally).
*NOTE The above is just an example, copying the script will not work. Also, make sure you close the code appropriately, and check everything is in order after copying it in.
Installation
Product rich snippets are a little different:
1) First you should ensure you have no other product rich snippet markup / json+ld. Adding this code alongside existing markup may cause conflicts.
2) In the dashboard hover over Product Setup and Product Review Publishing, then click publish product reviews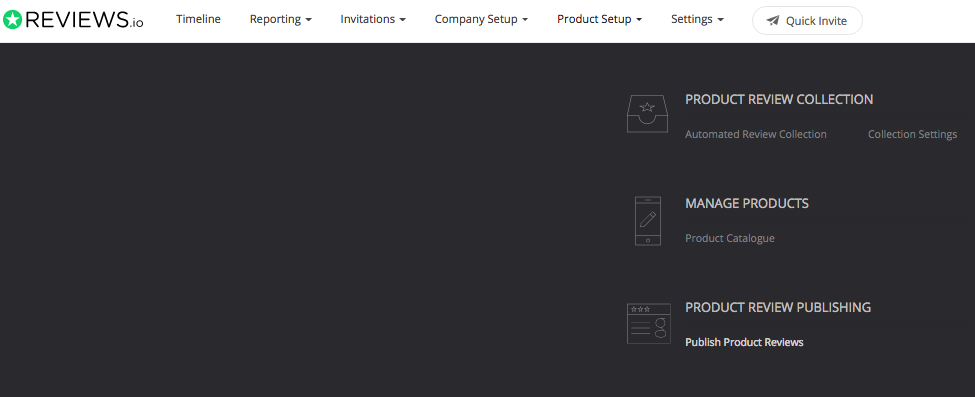 3) From the options, choose Product Rich Snippets
4) Copy the code from the box displayed and paste into your products page code.
*NOTE You need to use your websites programming / templating language to include the SKU in the code. E.g SKU:'SKU1;SKU2;SKU3'. Also, don't forget to close your code after copying.
Common problems
If you follow these steps, you should be well on your way to getting organic stars, however, we're all human and we often experience hiccups. Below are some tips and guidelines to help you with the process.
Google penalties
First things first, you can't go rich snippet mad adding structured data to every single page on your website willy-nilly. Although it seems appealing trying to get all your pages in the top results, you're actually harming yourself. If Google reads your entire website has company review or product rich snippets, it will penalise you. No stars. The end. No thank-you.
For optimum performance of Company Review Rich Snippet use, we recommend choosing your most successful pages, and adding up to 7 Company Review Rich Snippets, no more. Product Rich Snippets can be added to all your product pages.
Homepage is a no-no
Don't add any rich snippet data on your homepage. Google simply just doesn't display stars for a company's homepage, so not only is it a waste of time, but you're increasing your chance of having site-wide structured data and being penalised.
Whitelisting
When entering your page URL in step 4 of company review rich snippets, make sure it actually appears in the list. If it's not appearing, then you're not going to be getting structured data. Simply check your page is whitelisted. See the picture below.
Widget specific
You have to use the right widget to enable rich snippets. This may seem like a no-brainer, but sometimes we get a bit excited over all the widget options (who wouldn't though, right?). Although we have multiple choices, you must use the widget which has the rich snippet blue banner in the top right corner.
Widget position
When you do add your widget to your pages, it must appear close to the top of the page. Although it might look prettier in the footer, it needs to appear middle-top of the webpage for Google to see it, and thus read the rich snippet.
Check your code
One reason rich snippets won't work is if there are errors on your page. Go into your code, and check it's all correct and in order. One little oversight is not closing your code, which is so easily resolved. You can do so by putting your URL into WC3 Validator and it'll list any bugs which need fixing.
Company reviews and products are different
Although still labelled a rich snippet, product rich snippets are different to company review rich snippets, so it's important you display your widgets on the correct pages, as well as paste the correct code into the correct page. Products on product pages, company reviews on certain company pages of your choice.
Google testing tool
Lastly, one great way to check your rich snippets are working correctly (after following the steps above) is to check it using Google's Structured Data Testing Tool. All you need to do is insert your webpage URL you have the rich snippet on and check it.
*IMPORTANT If you find yourself experiencing problems, make sure you have followed the steps correctly and checked through the tips thoroughly. If you continue to have problems, please feel free to contact our support team (0116 2489536).
Blog Summary
Rich snippets are the structured data that lets Google determine your site content, and company review rich snippets get your stars organically on Google SERPs. If your page is passing the rich snippet testing tool and you are following the guidelines, then all you can do is wait and continue to improve the quality of your site.
Don't forget to:
Not use structured data site-wide or on the homepage
Make sure your page is whitelisted
Check your widget and its page position
Review your code
And most importantly, refer back to the rules and guidelines before panicking as to why it may not be working!
If you're not using rich snippets, then get started now to increase visibility for your company, and offer your loyal customers deeper insight to your services. Head to our homepage to sign up to a free trial today and start reaping those benefits.