There are three stages in any company review strategy. Collection of reviews, managing reviews and publishing reviews. This post talks about publishing reviews, specifically on your own website.
By adding reviews to your website you are giving customers an opportunity to learn about your business from other customers. The online opinions of previous shoppers is fast becoming one of the most important influencers in online consumers' buying processes. You can tell your customers how fantastic your brand is until you're blue in the face, but your opinion as the business owner is never going to be as valued as that of your previous customers.
Shoppers want to know three things why they purchase online. Is the price acceptable, does the product do what I need it to, and is the company I'm purchasing it from trustworthy. You have direct control over the first two, because you can simply ensure you are competitive and provide enough product information for a shopper to make an informed choice.
But how do you show how trustworthy your brand is? Of course, you must ensure your website covers the basics (secure checkout, prominent privacy policy, terms and conditions and delivery/returns policies). Displaying testimonials from past customers will give your potential shoppers the extra push they need to buy from you.
So, how do you show off your quality? It's simple, just implement a reviews widget on your website. There are a number of widgets available from Reviews.io and each has its own application on your site.
Trust Badges
The Trust Badge is a small, to the point, dynamic reviews badge to be placed in a prominent position on your home page (ideally), so that new visitors can see immediately that you're going to be easy to do business with from the outset. The Trust Badge shows a summary of your online reputation by displaying the number of reviews you have along with your overall rating.
The Trust Badge also comes in a smaller version which states that you're a trusted site. It links to your company profile on Reviews.io so that shoppers can read reviews about you.
Vertical Review Box
This is the most popular of our widgets. It helps create trust and gives peer to peer insights on the level of service that your potential customers can expect to receive. The vertical review box is fully customisable and can be added to your site in just a few minutes.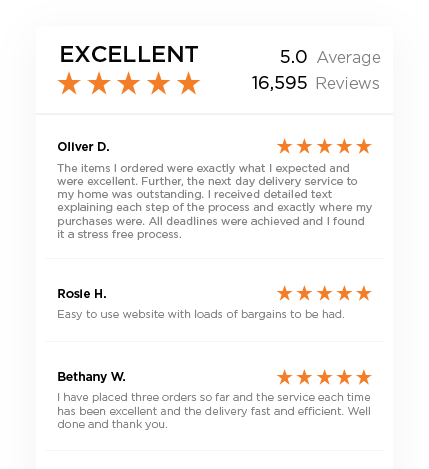 Dropdown Widget
A real space saver, the Dropdown widget expands on a click to reveal individual reviews. In it's closed state, it acts in a similar way to the Trust Badge by showing an aggregated review score along with the number of reviews. When opened, the last few reviews are displayed.
Carousel Widget
One of our most popular widgets, the carousel is fully responsive and allows multiple reviews to be displayed in a small space. Visitors can scroll through recent reviews by clicking on the left and right arrows. This widget is perfectly placed near the bottom of your site above the footer.
Floating Widget
This widget sits on the side of your website and displays your total review rating. It's a great space-saver and gives your visitors the opportunity to choose whether to read your reviews. When clicked, it expands in a light box and automatically shows your most recent reviews.
Product Review Widget
We're very proud of our product review widget - it's the most recent to be added to the range and has received rave reviews from our customers since we introduced it. Put this on your individual product pages and it will increase your on-page conversion, we guarantee it. The widget also shows Photo Reviews, created and uploaded by your customers. It's a fantastic source of user-generated content and will have a positive impact on your SEO as well.
Fully customisable
With API access to our reviews system, you'll have full control over how your widgets look. You can create your own and import your review data to remain in keeping with your website's theme, or you can customise our widgets with your own colour to match.
Showing your reviews on your site has a positive impact on your bottom line. For more information about how Reviews.io can benefit your business, head over to our main website.
Company Profile Page
Finally, all your reviews collected with Reviews.io will appear on your company profile page.
Here's some examples of how it looks:-
Start your free Reviews.io trial today by clicking the button at the top of this page, and you can get these beautiful widgets on your website.