Company reviews have to be your best form of marketing. One of the chief ways you can grow your business is by harnessing past loyal customer experience to inform your future customers about your superb products and services.
The vast majority of consumers are influenced by the presence of company reviews during their buying journey. Company reviews can be found across many platforms, as such it's important to maintain a consistent reputation online.
We'll start right at the beginning, with Section 1 defining what a company reviews are, and what types of reviews are available. Section 2 goes deeper into the channels where company reviews are found, as well as how and why collecting and publishing reviews to those platforms is needed.
Section 3 takes us into review collection in general, outlining all the benefits of company reviews. And lastly, Sections 4 through 6 will look at how company reviews influence your visibility and reputation both online and offline, and how company reviews directly affect your advertising click through rates, and therefore conversion.
There will also be a final roundup of this post in the form of a slideshow to solidifying company reviews further, which is covered in Section 7. To navigate the guide, here's a breakdown of each section:
Section 1
1.0 What is a review
Section 2
Section 3
Section 4
4.1 How to display Google seller ratings
4.2 Product ratings
Section 5
5.0 Improved trust
Section 6
6.0 Improved sales
Section 7
7.1 Blog summary
Section 1:
What is a review?
The dictionary definition of a "review" states the following:-
A critical appraisal of a book, film, play, concert etc. esp one printed in a newspaper or periodical.
For our purposes, this definition might be updated to:-
A critical appraisal of a company or product, published on the Internet.
Company reviews usually take the form of a score (usually 5 or 10) accompanied by a comment by the reviewer to justify said score. This score is usually represented graphically in the form of stars.
There are generally two forms of review; reviews about a company, and reviews about a product. The type will dictate where and in what form a review is displayed. Reviews can be displayed in a number of ways across a range of platforms.
What is a company review?
A company review is a critique of a business as a whole by its customers who have had an experience with said business. Company reviews may include comments on delivery, customer service, and order experience.
Company reviews may be shown in Google AdWords text adverts, in Google Shopping adverts, on a company's website (usually the homepage), or via rich snippets in Google's organic search results.
What is a product review?
A product review is a critique of an individual item or set of items, after reception or use by a customer. Product reviews may include details of size, fit, price, description, quality, longevity, ease of use or suitability.
Product reviews might be shown in Google Shopping adverts, on a company's individual product page, or via rich snippets in Google's organic search results.
Now we've got the basics, let's move on to your company review landscape and how collection, reputation, and the presence of reviews all fit in.
Section 2:
Company review landscape
Company reviews appear everywhere online, and reviews are left everyday on Google, Facebook, Amazon, eBay, Tripadvisor and third-party independent review platforms such as Reviews.io.
Over time, these reviews are added to an ever-growing pile of user-generated content which starts to improve SERP (Search Engine Results Page) rankings. The chances of a customer stumbling upon or actively seeking a review for your company from any number of these sources is highly likely.
Third party collection
Let's assume you're only actively collecting reviews on your website. Therefore, the only reviews appearing in other places online are ones which your customers have written independently. As the old adage goes;
A happy customer tells a friend; an unhappy customer tells the world.
It's quite likely that these channels are receiving predominantly negative, unverified reviews, of a potentially lower quality, which you at one time you may have been unaware of.
You might now have a problem with a these reviews hurting your overall online reputation. A once representative rating for your website may be unfairly pulled down, or appear even lower still across these other platforms, which you currently have no control over.
Therefore, active collection on these sites though our local reviews solution is highly recommended. This creates a consistent review score which not only benefits your business, but your customers too, who are now more accurately informed when searching for your services.
Reputation management
Overall, collecting reviews across multiple online channels spreads your brand scope and image, and also dilutes any negative feedback which may exist, creating a consistent review score and improving your online reputation.
Being able to manage your online reputation through local review collection as we have demonstrated is integral, because those unmonitored review scores will be negatively influencing future patrons, and pushing them into the arms of a competitor.
Review scores across a range of sources allows you to measure, monitor, and improve your online reputation over time, cementing customer trust and loyalty for your business.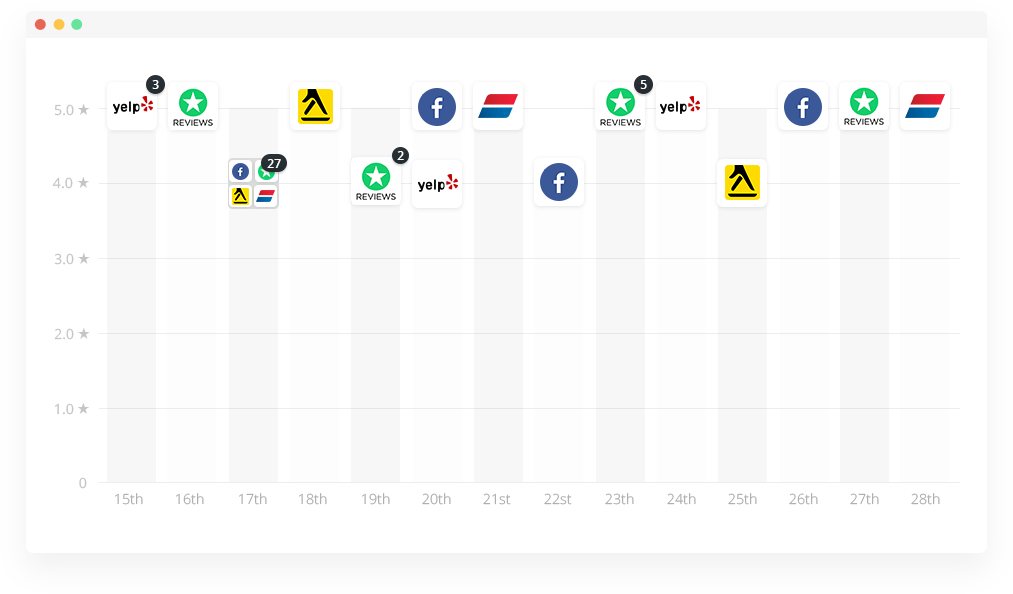 Asking for reviews
You may be actively asking for reviews on your website, but to collect across these local channels and improve your reputation, you need to ask for reviews on these channels too.
Research shows that when companies make an active effort to request feedback from their customers, 77% of them are actually willing to leave a review. There's more good news, because it's now much easier to leave a review, this ease is increasing positive experiences being shared.
Letting customers know your business welcomes their opinions places you positively in their eyes because you're operating transparently, asking for your patrons honest thoughts in the form of a review, which you're willing to share.
From simply asking and collecting on more sites than your own - which we strongly encourage to solidify your company review landscape - you will see a surge in mostly positive reviews, an increase in your review score, and thus a boost for your online reputation, making customers consider you, over a competitor.
Section 3:
Review importance
Now the groundwork has been laid, and your company review landscape made clear, we need to establish the salience of reviews in general.
The importance of reviews cannot be overstated. Reviews are the single most important informational resource in the eyes of consumers when deciding to make an online purchase. An amazing 93% of online shoppers state they incorporate reviews into their purchasing decisions, with over a further 88% of trusting online reviews over personal recommendations.
These figures are strengthened further, with over half of young people (aged 18-34) in 2017 saying they trust online reviews more than the opinions of friends and family.
Company reviews evidently influence shoppers. They reflect your overall customer satisfaction by giving prospective customers an indication of your knowledgeability, your standard of service, and how many of your customers are your advocates. Displaying a review score on your website cements the trust placed in your brand by your customers, and greatly influences future ones.
Product research
Customers will perform a lot of research into your products before they purchase from you, with 68% reading reviews as they build their shortlist. The same amount of consumers read 4+ reviews before deciding to trust a company. Some will be price-sensitive, others will be more interested in longevity and quality of the product.
Most will want to know that the application they want to use your product for has been tested and approved by a previous purchaser. Not only that, the average consumer overall wants a businesses to have 34 reviews before trusting the accuracy of its star rating, and thus choosing your company to purchase from.
This only emphasises the need for local review collection to boost those reviews and achieve a consistent review score.
Publication & purchasing
Displaying reviews, especially product reviews, on your website is critical. While a prospective customer is on your product page, you want to encourage them to purchase. To emphasise this point, 63% are more likely to make a purchase from a site which has reviews, with those who interact with reviews spend 11% more than those who don't.
Our very own Appleyard Flowers showcases their wonderful product reviews, which you can see in the examples below. I chose to look at Citrus Coulis over Apple Blush, not only because it's a gorgeous bunch, but because other people had experience with that bouquet.
The presence of reviews and customer comments could help answer any final questions the customer may have, enabling them to make an informed purchase. If they aren't tipped towards the checkout initially, don't be disheartened, as 89% of users will make a purchase within one week of reading reviews.
So either reading reviews there and then, or taking some time to deliberate, review publication for consumers helps them make savvy choices resulting in a higher than average chance of purchase from your business.
Presence
Overall you're guaranteed greater visibility, improved trust, and more sales with company reviews. When consumers browse for products and services online, everything starts with search. Some reviews will be easy to spot, some will be harder to find. Google offers a way for your organic and paid search results to stand out by displaying seller ratings (company reviews) next to and below your results in the SERPS.
What this means for you is that if you collect company reviews and become eligible for seller ratings, you are far more likely to have your PPC advert clicked on. In fact, your click through rates can increase by 17% by displaying seller ratings.
This leads to higher AdWords scores, lower cost-per-click, and increased conversions, with 50 plus reviews per product generating a 4.6% increase in conversion. Not only that, the presence of reviews produces an average 18% uplift in sales. In sum, reviews take a little time to implement and collect, but have huge gains for your revenue.
Section 4:
What are Google seller ratings?
Aside from all the points above regarding review salience, there are three main reasons to collect reviews:
1) Greater visibility in organic and paid search results 2) Improved trust and consumer confidence in your brand and products 3) Increase in sales owing to better on-page conversions
The first point is achieved through your Seller Ratings and review ratings appearing across paid and organic searches, so what are Google Seller ratings?
To quote from Google:-
Seller ratings are an automated extension type that showcases advertisers with high ratings. Google gathers seller ratings from reputable sources that aggregate business reviews. Showing below text ads, seller ratings help people searching on Google to find businesses that offer quality service. Seller ratings can help advertisers improve ad performance and earn more qualified leads.
In essence, your company reviews are sent via a feed to Google, and your average score can appear as stars in your paid advertising if your business fulfils the criteria outlined by Google (100 reviews in a 12 month period per country).
By implementing Rich Snippet coding on your webpages where you display your reviews, Google may read this data and subsequently display your review stars against your relevant listings in organic Google search results pages.
You may be worried about collecting 100 reviews, but it's not as difficult as it seems. With our review booster you can easily send invitations to previous customers and quickly reach that mark, to then see those stars appear in your Google ads.
How to display Google seller ratings
There are two steps to get your seller ratings in your Google Ads.
1) Implement a review collection strategy 2) Send your reviews to Google in the form of a Merchant Review Feed.
The Merchant feed is a file regularly uploaded to Google. It works in a similar way to a Google Shopping feed, and it contains details such as the username, time and date of the review, title, content and review ratings, plus any other additional fields such as pros and cons.
However, only licensed Google Review Partners are able to send the Merchant Review Feed to Google. Reviews.io automatically generates this file for you from the reviews you have collected so you don't need to get bogged down in technicalities.
Google will then display stars below your paid PPC AdWords ads once you have collected the minimum meeting all Google requirements. It's important to note you need to continue to meet the 100 threshold yearly. 100 total in one year does not guarantee you stars the next year.
What are Google product ratings?
To quote from Google (again):-
Product Ratings show star ratings on both Shopping ads and the Google Shopping property. These ratings help shoppers with their purchase decisions, driving more qualified shoppers to your product pages.
Product ratings differ from seller ratings in that they illustrate the summated review score of an individual product. Product ratings will appear in Google Shopping PLA (Product Listing Ads) search results. They may also appear in organic results as a rich snippet against an individual retailer's product listing page.
Section 5:
Improved brand trust
The second point revolves around boosting and maintaining consumer trust and confidence in your brand. There are multiple ways to achieve this, which include improving your image, increased online visibility, and lastly by responding to your reviews.
It's a fact that your customers aren't always going to take your word for how wonderful you are. Online reviews are seen as peer generated, and as such are viewed as more independent and trustworthy than traditional advertising.
Not only that, 9% of shoppers buy based on brand alone, so you can be sure they'll be looking for local sources of information about your company before deciding to buy.
While "trust" is an arbitrary concept, it is possible to measure it by using an aggregated score of all your reviews. Couple this with your Net Promoter Score and you'll have a good indication of how your customers feel about you.
New customers are going to want to see elements of this on your site, so adding Widgets and a Trust Badge (displaying your overall review score) is the best way to quickly show that your brand consistently gets good reviews.
Increased visibility
The presence of stars in search results will make your brand more appealing, gathering more clicks from online shoppers. Star rating is the number one factor used by consumers to judge a business.
As we know, stars will appear under your PPC ads, both in the form of AdWords and for Google Shopping. Text ads will show your overall seller ratings, organic rich snippets will show a company or product rating where applicable, while Google Shopping ads will show a combination of product and seller ratings, depending on whether you are looking at the compact listing.
Stars make your business stand out and offer your potential customers a quick and simple way to see overall trust levels in your brand.
Other review locations
We've already mentioned that reviews are found throughout the web. Amazon and Facebook also display product feedback and seller reviews, with Facebook alone having 1.13 billion daily active users.
It is therefore important to remember that collecting reviews on these platforms, where applicable, is desirable.
Companies can be reviewed on their Facebook page quite easily, and these reviews will also be displayed in Google search results. Amazon shows individual product reviews rather than seller ratings in the Google Organic results, which makes sense when its primary purpose is to offer a platform for multiple sellers of the same products.
Although technically not collection, another location you can display your reviews is by sharing them on social media sites. Sharing company reviews on Twitter or Facebook enhances visibility further, allowing a broader range of consumers to assess your services which they can go on to share themselves, exponentially building confidence in your brand.
Simply, if you collect and share company reviews across a variety of channels, you will improve your online listings in a multitude of ways. All the stars online add up to give an indication of your overall reputation, which consumers will readily take in, and you can easily manage online.
Negative company reviews
A final way to instil trust counterintuitively involves your negative reviews. All brands will get negative reviews from time to time, it's a fact of life. However did you know, that 52% of buyers trust a company more if they have a few negative reviews of their product?
How you respond to these reviews is just as important as displaying them. Reviews.io offers all companies the opportunity to respond to customer reviews, which are always visible to the public.
Solving and responding to customer problems is the best way to show prospective customers that you are approachable when things go wrong. To really bring this home, a whopping 95% of unhappy customers return if their issue is resolved. Engaging with your customers in these ways truly evokes and increases trust in your brand now, and for the future.
You can find more information on how to handle your negative reviews and how to respond to your reviews by clicking the highlighted links.
Section 6:
Increased sales with company reviews
Lastly, the third and final main reason to collect reviews surrounds the overall increase in revenue you see due to higher click through, better on page conversions, and reduced CPC.
As already made evident in the importance of reviews, click through rates can increase by 17% by displaying your seller ratings due to your great presence on Google. However, this is only the first step in increasing sales. Once the user lands on your website they'll be looking for information in order to make an informed choice.
There are many eCommerce sites out there that sell the same products, and in the vast majority of cases the information supplied is fairly standard and taken directly from the manufacturer. Manufacturer information more often than not simply isn't enough. Reviews thus help customers by providing more personal information, that may not be readily available on other sites.
This information is a great way for consumers to check if the product matches their requirements. Having other product-users give an account of its suitability is worth more than just the manufacturer's specifications alone.
Question and Answers
The comment box in reviews is a great place to look for more information which supports the review, and usually highlights the positives and negatives of the product.
In addition to the review itself, it's also possible for you to answer customer questions directly on your product pages. Using the Expert Answers Q&A widget from Reviews.io is a great way to get even more content on your site, and allows a mini forum where customers can ask your knowledgeable staff for more details.
As questions and answers are asked, a virtual FAQ is dynamically created, reducing future questions and improving organic search traffic. Adding product reviews and the Q&A widget to your site gives your customers a much better understanding of product suitability.
This will lead to better-informed purchasers making buying decisions on the spot, as we are aware 50+ reviews per product generates a 4.6% increase in conversion, potentially because theres less need to shop around for further information.
Not only that, it helps towards reducing return rates. If customers get exactly what they want the first time, there's no product disappointment and therefore their purchase with you is their final step, solidifying your services positively in their mind as meeting their needs.
Ease through visibility
Finally, each step of the buying process, from search, to click, to landing page, to checkout, represents another reason for a customer to leave, unless they find exactly what they want at the correct time. As stated in review importance, the presence of reviews produces an average 18% uplift in sales, with reviews evidently providing your customers the information they require to make a purchase, there and then.
With less shopping around and your increased visibility in the SERPs, your click through rates rise, reducing your CPC, leaving you with a heavier wallet and better ROI, simply from utilising all review benefits.
Section 7:
Company review roundup
We appreciate the information overload regarding company reviews, so below is a slideshow of the main points to remember surrounding review collection, implementation and management in order to improve your online reputation and benefit your loyal customers.
[metaslider id="8060"]
Blog summary
Company reviews are very important to your overall marketing mix and produce measurable changes in your online reputation, brand confidence, and conversions and sales once a company collection strategy is implemented.
With Reviews.io, you can collect authentic reviews from your customers which we will feed into Google. These will give you eligibility for Google seller ratings and stars in search results. Reviews.io also allows you to direct a percentage of your review invitation emails to third party sites, allowing your customer to write reviews for your business across a wide a range of places, improving visibility, and evoking trust.
Company review collection also improves sales through better conversion due to increased click through. If that wasn't enough, we don't believe review collection and implementation with a third party site such as ourselves should cost you the world. As such, we offer fair, transparent plans, which don't lock you in to a long contract.
Browse through our blogs for more advice and tips regarding reviews, or click the button at the top of this page to sign up to a free trial and start experiencing the benefits today.
Download your free Seller Ratings guide now.