Collecting reviews is one of the most important things your business can do. But that's only the first step in the review management process. What do you do with them once you've got them? Read on to find out 4 top tips for review publishing.
Send them to Google
Without getting your reviews in Google, you're not going to get Google Seller Ratings. Seller Ratings give your business better visibility in search results by showing stars underneath your paid and organic search results. You've probably seen them throughout the web.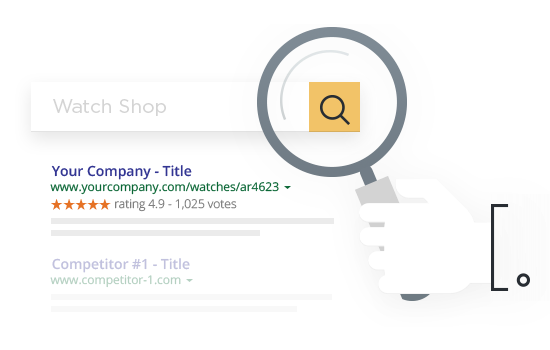 Here's the rub though. You can't send reviews to Google yourself - it's not enough to simply email your customers from time to time for a quote, put it on your website, and hope for the best. Only Google-licensed third party Review Providers such as Reviews.io can send your reviews to Google for you. If you're not using one, (or are collecting reviews with a non-licensed review provider) then ultimately you're wasting time and money without reaping the benefits of Seller Ratings.
Google only accept verified reviews, something which any licensed provider worth their salt will get you.
Share them on your social profiles
People are social, and like to read reviews. Put your reviews to work by getting them into your Facebook and Twitter feeds.
You can achieve this automatically with Reviews.io. We'll post all your 4 and 5 star reviews to Twitter automatically for you, and you'll also get a new tab on your Facebook page which automatically populates with reviews from your company profile page on Reviews.io.
You can also share your reviews manually using our simple social editor.
Make retargeting ads on Facebook and Google from reviews
You can turn your reviews into testimonial ads. Just pick the ones you like and we'll turn them into the correctly-formatted images for both platforms. You can either download these and add them to a campaign of your choice, or we'll integrated with your Facebook and Adwords accounts and create the campaign for you.
Publish them on your website
Obviously, the most important place to display your reviews is on your own website. Show a Trust Badge to give your customers a quick overview of your review score, or choose a larger widget containing star ratings and comments in a dynamically-created and SEO friendly option.
We'd recommend showing your company review rating on your home page as well as in global areas of your website, such as your header or footer.
Product reviews can also be shown on your individual product pages. As these are usually the landing pages for your Google Shopping ads (for eCommerce site owners), you're giving the user more confidence in your products by making ratings available to them.
To give users another reason to buy from you once they get to your product page, you can also add a question and answer widget about the products. This is a really great way to give extra information not supplied by the manufacturer, because you can answer individual customer questions and display those answers for future customers to see. In this way you're giving potential customers another reason not to leave your page, because if you've answered a question they already have about product suitability, they're far more likely to purchase from you then go elsewhere for the information.
Have a read of a previous blog post about how reviews affect the customer journey for a little more information about that.
In Summary
Putting your reviews to work is going to have a measurable impact on your bottom line. The most important thing you can do is get Google Seller Ratings by collecting 150 verified reviews with a licensed Google Review Partner, such as Reviews.io. Stars get you more traffic, clicks, and conversions. This improves your Adwords score and reduces your advertising costs. You'll usually find an almost overnight reduction of Adwords cost by 10% once you get Seller Ratings, based on data from our clients.
It's also very important to not limit yourself to focusing on one place to collect your reviews. Consumers today are savvy, and will look for reviews online wherever you are. If your Facebook reviews or Google Local reviews are poor, while your website reviews are good, enough alarms bells will ring in their mind about the consistency of your reputation.
Reviews.io lets you concentrate on collecting reviews from a wide range of third party platforms, meaning you can manage your reputation all from one place.
Get in touch with us and we'll talk you through it, or sign up now using the button at the top of this page for a free demonstration of our platform.